OLD NEWS
August 16, 2015
Before this update, please take a moment to remember the King who left us on this day back in 1977.
Listen to this: HURT
Bless him...
**
Hope things have been well for you. This summer had been busy. Artwork and press photo shoots galore. Both coming to you soon. I have been so lucky to work with incredible photographer Dave Gillespie and can't wait for you to see the results of what was for me a dream come true.
Plans for manufacturing the new record have been delayed while we wait for the pressing plants to catch up. It's pretty busy out there.
Read this article to see what I mean:
Vinyl's Pressing Problem • Ben Rayner • Toronto Star
Release Date, show and more details coming soon.
In Toronto next weekend? Come see us play:
Thanks for checking in!
Julie
May 22, 2015
Hello internet, Julie here. Just a quick update, K?
CMW was a whirlwind and the most fun. Thanks to all those who came out to our shows. We had some nice pictures taken and things said about us which you can see here:
Joe Chisholm from IndieCan Radio came out to our show at The Dakota Tavern and interviewed me before we played. Look for that soon on Sirius XM Radio The Verge. I ramble on about our last record, Seaforth, and how making the new record had a completely different process which it turned out was just what I needed. In the meantime, listen to episode 417. Joe picked the song we've been opening with lately to play on his latest show.
A highlight for sure was meeting the legend Bob Segarini who wants me to change the band name to 1966. Check out his blog Don't Believe A Word I Say. I believe everything he says.
OH ya P.S. One of our new songs from the next record is being featured in a Norwegian film that's coming out later this year! We'll let you know where/when it's released. I can't wait to see it. It's a bar scene and one of the female characters is contemplating her next move... timely.
April 25 , 2015
1977 is playing two showcases during Canadain Music Week in Toronto.
Friday, May 1 • The Dakota Tavern • 10pm
Tuesday, May 5 • Cherry Cola's • 8pm
Click here for info from the CMW website.
Say Hello!
March 13 , 2015
Ooh ooh! Site Updates.
January 7 , 2015
A new album coming this summer. Stick around!
July 10, 2012
Summer is in full swing here in Toronto. Why not lay back, watch the clouds float by and listen to this tasty treat?
NEXT SHOW < < < Toronto / / The Ossington / / July 26 / / 9 pm > > >
June 26 , 2012
Hey there NXNErs, Julie here. Thanks having me. Big up tp C'est What!! It was a thriller to be on my own and do a new song I've been dying to play. Can't wait to play it live with the band and record it with them.
What's next for us? Working on ViDeOs.
What's next for you? To get ready for Seaforth's release. Julie
s*M*i*L*e
April 25, 2012
NXNE details will be annouced shortly. Come back soon!
April 15, 2012
Sarah's on vacation for our next show in Toronto, but that's not going to stop Julie from harmonizing... with herself!
Come see the magic unfold in the intimate settting of the Tranzac Club on Saturday, April 21 at 7:30 p.m. and stay for one of Kingston's cutest couples, Kyra & Tully.
March 19, 2012
1977 are playing Canadian Music Week this Wednesday. Check our shows page for more information. Have you got your wristband yet?
March 7, 2012
The reviews for So is the Sea continue to come in. Check out what Carla Gillis has to say in Toronto's weekly, NOW Magazine, and then come out to our show at the Horseshoe Tavern in Toronto, on Friday, March 9.
Feb 18 , 2012
We're happy to share the news that friends Azari & III have been nominated for a 2012 Juno Award for their self-titled debut in the category Best Electronic Album of the Year. Julie shared her vocals on the track Change of Heart.
Alphonse Lanza (AKA Alixander III) of AIII mixed 1977's debut, Nineteen Seventy-Seven (also nominated in 2010 for Adult Alternative Album of the Year), and appears on the last track, There's A Light, playing the reverb box. Dinamo Azari, the other half of AIII, is an old elementary school chum of Julie's, reunited in the Parkdale studio where both records emerged.
Congrats Boys!
January 15 , 2012
1977 Slowly Steps into the Spotlight - The Toronto Star
January 3 , 2012
Happy New Year!
How did 2011 end for you? Mine went something like this:
Home renovations suck. Sewers suck. Hot Water Tanks suck. Pipes suck. Water does seem to be a theme in my life. If only I could escape to an ocean...
To start the year off on a better foot, we're going to play a show next week at The Horseshoe Tavern in Toronto.
Give us a shout, and we'll put you on the guestlist. mail@nineteenseventyseven.ca
There have also been a few more reviews for So Is The Sea. I'm glad people have been enjoying it as much I do. Read them here.
Best for the rest, Julie
November 25, 2011
READY? We are. Tonight is our EP Release Party celebreating So Is the Sea at The Rivoli, 334 Queen Street West in Toronto, Canada.
As a special treat for those who party with us, we've got limited edition postcards, packaged with download codes, and T-shirts silk-screened by singer-songwriter Julie Kendall.
We'd love to sing for you. See you there?
November 23, 2011
So is the Sea broke the Top 50 !earshot chart at #41 this week. Wahoo!
Are you coming to our party on Friday? At the show, you'll be able to pick up a download code for the new So is the Sea EP, and buy new T-Shirts that Julie silk-screened herself. Here, have a look at some: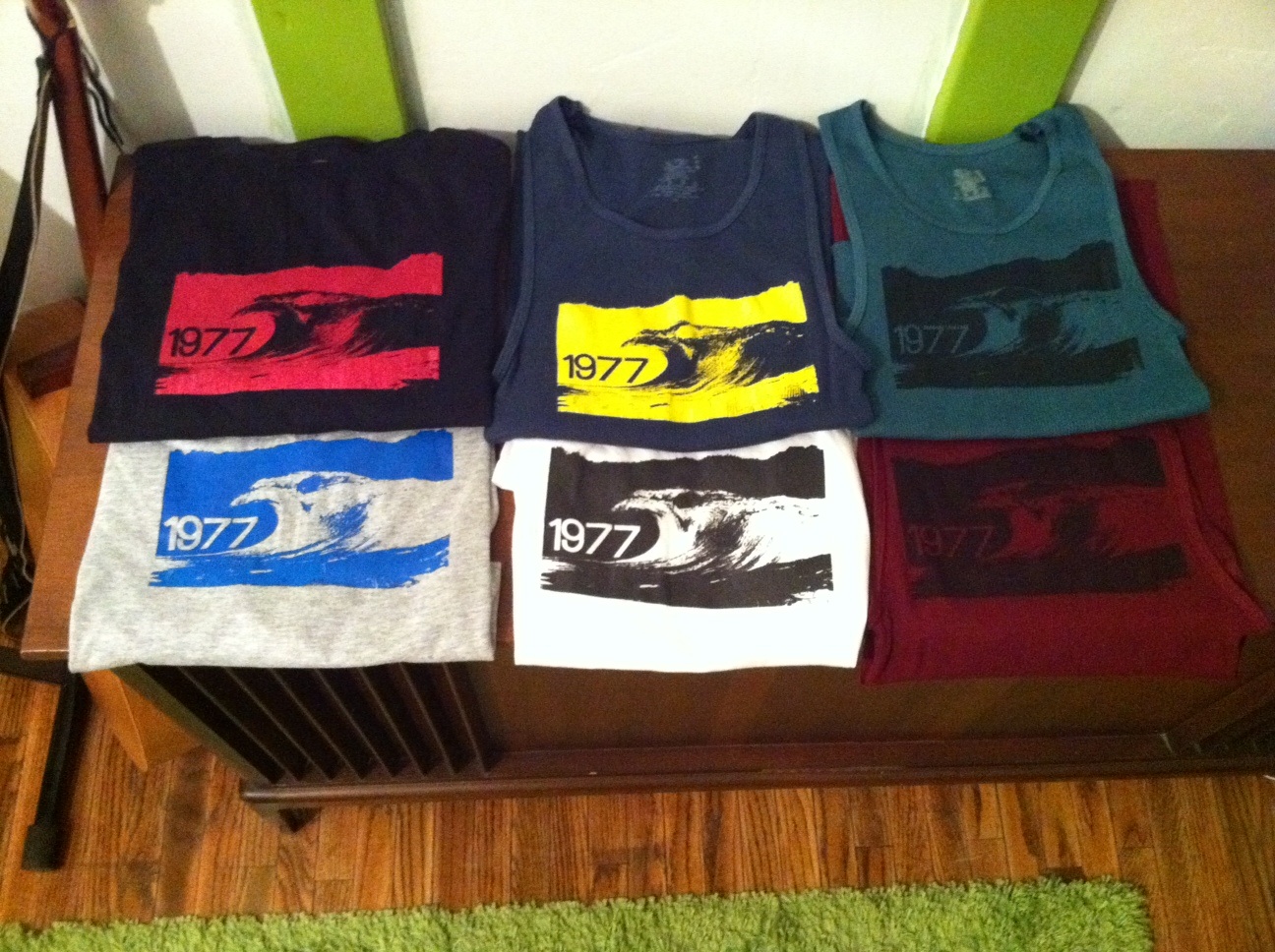 Click below for the latest press for So is the Sea:
Learning to Let Go - Telescope Media interviews Julie
Album review - Mizrebel Records
I Like This - 1977 - Alan Cross
The Soraing Sadness of 1977 - Edmonton Journal
See you Friday!
November 15, 2011
Happy So is the Sea EP day! Buy it on bandcamp and Zunior.com today.
November 9, 2011
Check-a-check-a-check-a-check-ah ceckh, check it. Check it, check, check.
So is the Sea EP has been getting some press as of late:
Mississauga News interviews Julie
So is the Sea EP will be available November 15th. Pre-order here: Bandcamp
October 25, 2011
We're now taking Pre-Orders for So is the Sea on Bandcamp. You early birds will recieve the title track and the first single "You Got A Way" immediately!
Click here to be taken to our Bandcamp page.
Thanks for checking in! See you in a month's time?
October 5, 2011
Time to party! Some information for the So is the Sea EP release party are posted in the shows section of our website. Further details to follow...
October 4, 2011
New website is live!
So is the Sea EP is set for release on November 15, 2011. 1977 wants to celebrate with you, so be sure to check back soon as details for the Release Party will be posted soon. Yeh!
September 5, 2011
The new website is coming.
August 10, 2011
Show announcement here.
July 4, 2011
The new website is coming.
While you wait for that, listen to two new songs from the Seaforth EP on youtube, here and here. Ben Rayner said some nice things about "Alright" on this Toronto Star blog.
Then, go to The Horseshoe Tavern on August 9, 2011 for Dave Bookman's 102.1 The Edge Nu Music Nite in Toronto. We play at 9:10 p.m. sharp. It's FREE!
May 21, 2011
Julie will be at NXNE this year playing at Rancho Relaxo on June 16, 2011. Fans of Julie's intimate shows will want to be there to hear new songs from the Seaforth album which will be released later this summer. Follow Julie on Twitter to hear more about the upcoming release and what she's eating.
March 15, 2011
CMF or CMW (whatever you want to call it) was great! Here are some reviews from our show on March 10 at The Hard Luck Bar in Toronto.
We are starting to reveal bits and pieces of information about the new album.
First, it's title: Seaforth
We're now booking shows for the release, late this summer. To get in touch with Julie or to book a show email us:
mail@nineteenseventyseven.ca
Keep checking back as this site transforms itself for the upcoming release.
January 29, 2011
We're playing CMF on March 10 at The Hard Luck Bar in Toronto. Check our shows page for more details. We play at 9 p.m. and will definitely stick around to watch The High Dials who are on after us. New songs from the soon to be released album will be played. Very exciting!
January 16, 2011
Happy New Year! Boy, the holidays can be busy. Lots going on on this end. Can't say much about this and that at the moment, but all will soon be announced.
If things take longer than usual (or as per usual) hopefully there will be some understanding as Julie's been taking some time to try to save her family's home from demolition. Know people in the house raising and moving business?
Please get in touch: mail@nineteenseventyseven.ca
December 12, 2010
Holiday show! HOHOHO Members of 1977 and Bellevue are coming together to play Dan Burke's annual holiday tribute show at The Silver Dollar Room in Toronto on Thursday, December 16th. This year we pay tribute to Creation Records. More info here on Facebook.
October 14, 2010
Show update!
October 10, 2010
Toronto show anouncement.
October 3, 2010
Hi Autumn!
Our friend Owen Marchildon, who played with Brent and Julie at the infamous Ossington show earlier this Spring, officailly joins the band on bass. Nothing has ever been so right!
Recording will begin shortly now that broken fingers and broken spirits have been healed. The release of the follow-up to Nineteen Seventy-Seven is back on track for early 2011.
Keep checking back and join our mailing list (which we're launching shortly) to find out the latest in news and shows.
August 4, 2010
Daylight Comes is being used in one of next weeks Degrassi episodes. The two-parter is titled "You Don't Know My Name" and airs nationwide on MuchMusic on August 10. Interesting!
July 20, 2010
Joe Chisholm from IndieCan Radio (heard on XM Satellite Channel 87 THE VERGE) interviewed Julie after the NXNE show at The Garrison. Follow this link to stream or download Episode 186.
July 9, 2010
Hello friends. It's been non-stop here in 1977 land so a few things to get you all up to date... First, NXNE was a great. So many good shows! Watch a clip of the band performing at The Garrison here on the aux TV website. Pictures from the show at Neutral Lounge can be seen here on the Blare Magazine website.
Want to know more about Julie and how the 1977 album was made? Read the article here in The Mississauga News.
Julie and Brent recently moved to the small town of Port Credit (located on the shores of Lake Ontario in Mississauga) where Julie grew up. Port Credit has always supported The Arts and with all the new development big things be happening there!
One being Ric's Recollections, the greatest place to find that vinyl you've been looking for, has moved to a larger location just stores down. More space means more records! Come out tomorrow between 1-3 p.m. to see Julie play and support the Grand Re-Opening of Ric's Recollection, 257 Lakeshore Rd. E., Port Credit, Ontario.
June 17, 2010
1977 will be at The Indie Music Market in Toronto this Saturday, June 19 as a part of NXNE. The Market takes place in the heart of downtown Toronto at Yonge & Dundas Square.
1977 will be setting up shop from 12 p.m. to 2 p.m. For sale will be copies of the 1977 LP, brand spanking new T-shirts, posters and more. Come say hi!
June 13, 2010
Check out the poster for NXNE. See it here or pick one up at the shows:
Saturday, June 19 at Neutral Lounge - 9 p.m.
Sunday, June 20 at The Garrison (NXNE closing party) - 9 p.m.
June 6, 2010
1977 will be playing two showcases at this year's NXNE in Toronto. Wristband info can be found on the NXNE website. Check out our show page for more info.
Drop by and say hello before the show on Saturday, June 19 from 12 p.m. to 2 p.m. at the NXNE Indie Music Market at Yonge & Dundas Square where members of the band will be giving away one free 1977 record each half hour.
More details to come...
May 3, 2010
St. John's was incredible. People everywhere were amazing. The whole experience was out of this world, including the fog, volcanic ash, and yes, even Justin Bieber. We arrived on the red carpet just as he jumped out the back of his van.
Now it's all over, and with that a sigh, back to life. It hard to believe that it's been two months since the nomination press conference, where I sat alone, nervous, and wondering why I was there?
Thank you to everyone who listened. - Julie
NOW Magazine picks 1977 for Juno Award!
The National Post asks "If you had to wear one of Lady Gaga's outfits to the awards, which one would it be and why?". Read Julie's answers to this and more here.
April 17, 2010
Brent and I made it to St. John's! We're here and it's wonderful. Played The Well last night and it was the most fun I've had at a show yet. We're up to some sight-seeing and Record Day shopping today and then off to the Gala Award dinner tonight - Julie
April 8, 2010
Howdy! Been digging through time and found the long lost video for 'i Don't Want To Take It Out on You" circa 2008. Do you believe in magic?
Oh yes, and the details for the JunoFest show can be found right here at the Juno's website.
March 24, 2010
Whoa! Julie and Brent are heading to St. John's, Newfoundland for the Juno Awards. They will be playing as a part of JunoFest. Details are still to come, so check back soon. Wristbands go on sale this Saturday, March 27th.
March 8, 2010
The Otherside has been featured in Zunior's monthly free music sampler. Other artists on the compliation include The Great Lake Swimmers, By Divine Right, The Burning Hell and others. You can download it here.
March 6, 2010
The 1977 debut album Nineteen Seventy-Seven has been nominated for a 2010 Juno. It's up for Adult Alternative Album of the Year. Amazing!
February 18, 2010
1977 album review in this weeks Eye Weekly. Come to the show!
February 8, 2010
1977 is playing a show downstairs at the El Mocambo, in Toronto on Friday, February 19th, with a full band. This is the first time in over a year. Don't miss it! Also playing is Purple Hill, Paul Shepherd (of Rough Skeletons), and Stereo Moon.
December 12, 2009
The Nineteen Seventy-Seven album is now available on iTunes. For those who prefer the real thing, purchase the album in these great record stores in Toronto and Montreal. Too far from home? No problem, buy the 12" online from Zunior or CD Baby.
An intersting aside: Nineteen Seventy-Seven is the first 12" vinyl record for sale on CD Baby and the second on Zunior.
August 14, 2009
Julie and Brent recorded two songs a few weeks back for the show Electric Boogaloo which airs on CIUT 89.5 FM on Fridays from noon to 2 pm and we have word that they will be a included in this weeks show. Listen online here and visit the blog for more information.
August 6, 2009
Pop Montreal and SIRIUS Satelite Radio have included Get the Feeling on the SIRIUS Pop Player. Vote for 1977 to play the SIRIUS Stage this Fall at The Pop Montreal International Music Festival here. Pop or Poop?
July 14, 2009
Scott Bryson from ChartAttack reviewed the 1977 LP. Follow this link to read it here.
July 13, 2009
Daylight Comes was featured on Zunior's podcast this past week with other great local artists. Listen here.
July 7, 2009
The 1977 12" LP is finished. Release dates, where to get a copy, and party information will be posted as soon as they are finalized. Wahoo! In the meantime, follow this link to see where you can buy the album now.
Julie is currently recording songs for her next release that she's hoping will be finished before the Fall, but as those of you who have been following the long-awaited release of her debut 1977 know, these things can take more time than originally anticipated. We'll keep you updated.
Ask to hear us on your local college, university, and independant radio stations. We sent our music to as many as we could find. if we missed one, please let us know so we can send a package out. If you don't know about your local radio station, you should. There are tons of good shows to listen to and many of them podcast. Support local independant radio!
Daylight Comes, Free, and The Otherside have been getting played on CBC Radio One and Two on shows Here and Now hosted by Matt Galloway on 99.1 FM, Toronto's CBC Radio One station and Drive, a new CBC Radio Two show (94.1 FM in Toronto) hosted by Rich Tefrey (aka Buck 65) which airs nationwide on Fridays from 3-6 p.m.
We charted #44 across Canada on College & Community Radio Stations in January 2009.